"Lively. Radiant. Lush… A color of elegance and beauty
that enhances our sense of well-being, balance and harmony."
Download Color Of the Year Wallpaper
PANTONE 17-5641 Emerald, a lively, radiant, lush green, is the Color of the Year for 2013.
The 2012 color of the year, PANTONE 17-1463 Tangerine Tango, a spirited reddish orange, provided the energy boost we needed to recharge and move forward. Emerald, a vivid verdant green, enhances our sense of well-being further by inspiring insight as well as promoting balance and harmony.
Most often associated with brilliant, precious gemstones, the perception of Emerald is sophisticated and luxurious. Since antiquity, this luminous, magnificent hue has been the color of beauty and new life in many cultures and religions. Also the color of growth, renewal and prosperity, no other color conveys regeneration more than green. For centuries, many countries have chosen green to represent healing and unity.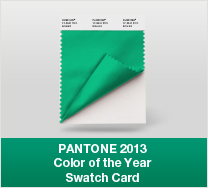 "The most abundant hue in nature, the human eye sees more green than any other color in the spectrum," said Leatrice Eiseman, executive director of the Pantone Color Institute®. "As it has throughout history, multifaceted Emerald continues to sparkle and fascinate. Symbolically, Emerald brings a sense of clarity, renewal and rejuvenation, which is so important in today's complex world. This powerful and universally-appealing tone translates easily to both fashion and home interiors."
Dig deeper into the thinking and decision-making process that answers why, of the nearly infinite range of colors perceivable by the human eye, 17-5641 Emerald captured our attention, our imagination and our collective eye to become this year's selection as the Pantone 2013 Color of the Year.
**This article is reproduced from www.pantone.com