What is Picture Framing?  Well, let me give you a little lesson.  Sit back and get comfy.
Custom picture framing is when we take your artwork, photo, picture, canvas, items, or really whatever you have and we ultimately build a unique size and frame for your piece.  In addition to the outside frame there can be a number of other parts to the project.  For most 2 dimensional pieces we will need a backboard or foamcore backing to attach the artwork.   There are many ways we can attach your artwork to the backing board and each project is unique.  Two of the most common ways to attach the artwork to the backboard is by a process called drymounting where we use an adhesive tissue and a commercial vacuum press to permanently attach your piece to foamcore.  The second method is a reversible process called hinging, acid-free hinging, T-hinging, or S-hinging.  You get the picture.  We typically use an acid-free linen tape to make a hinge to the artwork and then attach that to the backboard. Oh wait here is an illustration of a hinge.
Customer: "I want to mat my picture".
Designer: "OK, let me pick some mat colors to see what looks best with your piece."
Customer: "No that's not what I want.  I want to attach it to something."
Designer:  "Oh, that would be drymounting."
Who knew there were so many technicalities to picture framing!  A mat is a border around the artwork.  A mat adds visual interest, space, and protects the artwork from touching the glazing surface. These boards are made of 4-ply and 8-ply cotton or alpha-cellulose material.  At Boulder Fastframe we choose to use only acid-free mats.  They are higher quality, protect the artwork, and eliminate acid burn that can be found on the artwork after using acidic mats.  We have hundreds of mat colors and textures.  We can cut shapes beyond the square to circles and other unique and decorative accents.  We have ready-made size mat blanks or we can cut you a mat to your individual size.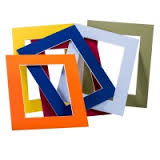 Wait, there is more to picture framing!  Here in Boulder Colorado, we get a lot of sun and bright exposure.  Most artwork will need a protective glazing surface.  We highly recommend our two favorite glazes TruVue Conservation Clear Glass or TruVue Museum Glass.  Both have a 99% UV protection film on one side of the glazing.  Museum Glass is the mac daddy of the glazing world.  If you have been to an art museum you will notice that many of the canvases are now protected with an anti-reflective glass.  This is Museum Glass.  Once you use it you will not want to go back to regular glare glass.  Take our word on it and come visit our shop to see our store displays.
And in my condensed version of picture framing, back to the beginning, the frame.  There is more to the frame than meets the eye.  Since I don't want to bore you with all of the gritty details, here are just a few.  We order most of our frames as length moulding.  This means they come in sticks ranging in size from 7′-10′.  We then cut our length to the make the 4 chops that we need to build the frame.  From there we sand the miter edges, color the corners with art markers, and join the frame.  We join the frame with our V-nailer and wood glue.  In some cases we join with wood vices.  When you see all the pretty corner samples at our shop remember all the work that turns these,
into this!